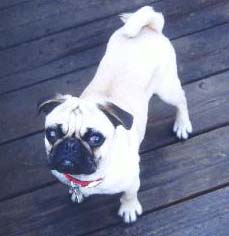 Mugsy (2002)

Ohio Pug Rescue, Inc. was formed to care for all displaced pugs in Ohio - no matter their age, health, or condition. This mission is carried out only by private donations and adoption fees. Many of you have adopted a pug from OPR that otherwise would have been euthanized if not for rescue. OPR offers a positive alternative to owners instead of putting their unwanted pug in a shelter or abandoning it.

Each year, not only does OPR care for more pugs than the year before, but more serious medical cases are treated than ever before.

Every year we have tens of thousands of vet bills for our pugs; in 2006, OPR had $49,167.78 in vet bills alone.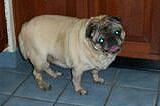 Fox (2002)

OPR's mission has always been to never turn away any pug in need. Without financial support, we would not be able to afford to provide even basic medical care.

Your tax-deductible donation is not only appreciated, but also needed to ensure that OPR's mission to help all pugs in need can continue.

Your donation is tax deductible to the fullest extent of the law.

Thank you in advance for caring,
Ohio Pug Rescue, Inc.
Donor/Billing Information