Fostering a Senior Dog
---
Why is fostering so important in the rescue and re-homing of Senior Dogs?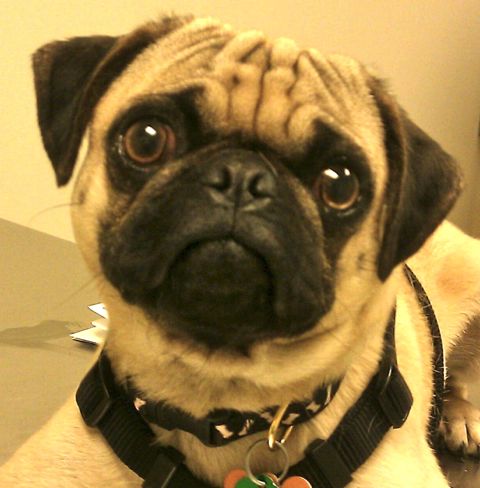 Sultan (2012)

Senior dogs are at the top of the euthanasia list when they are taken into most shelters. That means, when the shelter fills up (as so often happens), they are the first to be taken to the euthanasia room. In offering a foster home to a senior dog, you are buying the time needed to find a permanent home and avoid euthanasia.

The typical animal shelter is a stressful environment for any animal. It is particularly hard on seniors, who are generally less able to deal with stress and may experience more disorientation than a younger dog. In addition, contagious diseases, such as kennel cough, are often rampant in shelters. Older dogs don't easily fend off disease. They also tend to be less optimistic than younger dogs and can lapse into depression, which does not encourage prospective adopters to consider adopting them.

Also, consider that a senior dog frequently requires a longer time to find a new home because most people who visit shelters are looking for puppies or young dogs. The longer a senior dog spends in a shelter, the worse his condition will be, the less appealing he will seem to a prospective new family, and, of course, the closer he comes to running out of time.

A senior dog who is fostered rather than kept at a shelter will maintain or more quickly regain good emotional and physical health, and therefore be vastly more appealing as a candidate for adoption. A senior dog who lives in a home environment rather than a shelter while he is waiting for permanent placement will inevitably make a better transition to his new home and family, and therefore decrease the chances that he will be displaced again.
---
What do you need to foster a Senior Dog?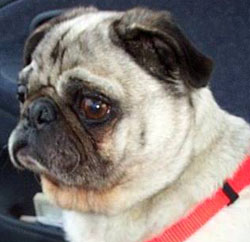 Mortimer (2004)
Personal Qualities:
If you want to foster, you should consider yourself to be a compassionate, patient, and committed person. You also need to be flexible and to have a practical attitude and a good sense of humor. These qualities will enable you to help a senior dog recover from the trauma of being displaced and make a good adjustment to a new home.
Suitable Home:
If you have a yard, it should be fenced. If you rent your home, you should have your landlord's permission to have a dog living with you, even on a temporary basis. The rescue organization requires a home check before giving you a dog to foster.
Time at Home:
You shouldn't foster if you plan to be away on a trip soon after you take in a dog. Ideally, you should plan at least an hour per day specifically for care and exercising of the dog. You should also plan to spend significant time with the dog each day, just being in each other's company.
Experience:
You need not have fostered in the past. However, some experience with dogs is good to have. If you have experience with a particular breed of dog, it would make sense to foster that breed; the breed's rescue group will be delighted to know about you. Depending on the dog, you may be asked to do some simple re-training, and, to this end, may be asked to enroll in a dog training class. If you are a first-time foster, the rescue organization will help in deciding which dog would be best for your situation and what information on dog behavior and training will be useful to you.
Financial Resources:
It is always helpful if you can cover the cost of food and incidentals for the dog you foster. The rescue organization pays for medical expenses.
Transportation Resources:
You should be able to provide transportation to vet appointments, and although not absolutely necessary, it is always helpful if you can transport to rescue fairs where the dog can meet potential adopters.
Equipment:
A harness and leash is provided by the rescue organization; however, you may wish to have another set or two on hand. A crate is a convenient piece of equipment, also, although not absolutely necessary. Food and water bowls are necessary, and, to be sure the dog stays well hydrated, you may want to have a water bowl in more than one location. If you already have a dog bed, that's great.
What if you already have another pet or pets?
Many people with another pet or pets foster animals. The rescue organization usually has information on the ability of their dogs to get along with other animals. And, of course, you will know about your own pets' abilities to adjust to a visiting dog.
Suppose something comes up and you can no longer foster the dog you've taken into your home?
It's understandable that unforeseen events might occur, making it impossible for you to continue caring for a dog you've agreed to foster. However, moving a dog, especially a senior, around from place to place is detrimental, and, most rescue organizations agree, can seriously affect the dog's future. When you decide to foster, you should be in a position to make the commitment wholeheartedly and with no foreseeable interruptions until the dog finds a new home.
What if you get attached to the senior dog you foster?
It is not uncommon to become attached to a dog you are fostering and to have trouble giving up the dog. It seems to make people feel better to know that releasing the dog to a new, loving home enables them to again take in and give a chance at life to another senior dog. Of course, if you absolutely cannot see yourself giving up the dog and can accommodate her in your home, you may want to consider adopting her.
---
How to get started in fostering...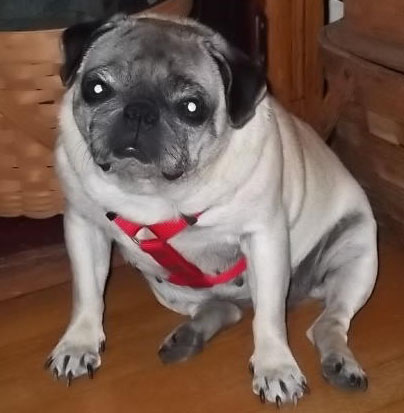 Eema (2010)

Fill out our Volunteer Membership Application & Agreement and check that you want to provide foster care. A foster home packet will be mailed to and you will be contacted by our Foster Home Coordinator.

We hope that your experience in fostering, even though challenging, will make a difference in your life. We assure you, it can make a life or death difference to a displaced senior dog.