Introduction
---
Ohio Pug Rescue, Inc. is a 501(c)(3) nonprofit all-volunteer organization operating a surrender, foster care, and placement program for all Pugs in Ohio - no matter their age, condition, or health.
We hope that if you decide a Pug is for you, you will consider adopting a rescue dog. They are wonderful animals who have run into circumstances beyond their control and now find themselves in need of a new home with people who are willing to make a commitment to them for the rest of their lives.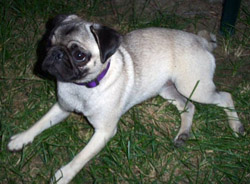 Bailey (2003)
The Adoption Process:
Before adoption proceedings begin, all rescue Pugs are taken to a certified veterinarian for a general exam, and, when necessary, are spayed or neutered, vaccinated, receive a rabies shot, are heartworm tested, microchipped for identification, and have any other medical needs met in order to ensure the Pug's good health when it goes to its adoptive home.

An adoption application must be completed and returned in order to be considered for adoption. If, after reading the Adoption Considerations below, you feel a Pug is the right dog for you, fill out and submit the Online Adoption Application on this site. Your application will be reviewed and references will be checked. Adoptions are NOT done on a first-come, first served basis. Instead we make every attempt to provide you with a pug that most closely matches your request and situation.

Our adoption policies are designed to ensure that each Pug is placed with a responsible person, someone prepared to make a lifelong commitment, and to avoid the kind of problems that caused the Pug to be brought into rescue in the first place. An important part of the adoption process is to match the lifestyle and needs of the adopter with the personality and behavior of each Pug. If this process seems overly strict, remember that OPR's first priority is the Pug.

We keep all applications on file until a Pug becomes available, so don't get discouraged if we don't have a Pug right away. We never know when a Pug will need us. If, in the meantime, you have any changes to make to your information or want to be removed from the waiting list, please notify us.
Adoption Fees:
Ohio Pug Rescue requires a fee at the time of adoption. Adoption costs are based on the age of the Pug and are used to cover veterinary and foster care expenses. Officers, members, and volunteers receive no payment, they do it for the love of the Pug. Our goal is to place homeless pugs in safe, loving, permanent homes.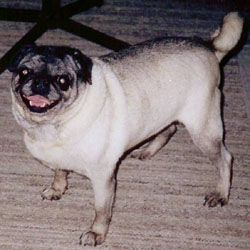 Megan (2004)
Adoption Considerations:
A Pug, like any pet, requires a commitment of your time, energy, and money. Owning a pet is a privilege and should be treated that way.

Even with the best-behaved animal, you should expect a period of adjustment as your Pug becomes used to a new home, family, and routine. No animal, no matter where it comes from, will be completely free of health or behavior problems. But, if you give your Pug some time, training, and patience, your reward will be a loving companion. Since you are considering a Pug as a new family member, you should be aware of a few Pug facts.
Pugs...
shed a lot.
are house pets, NOT kennel dogs and NOT yard dogs.
must be inside with air conditioning in summer and heat in winter.
are not guard dogs or watchdogs.
may bark at strangers.
are NOT jogging partners. They can overheat and die after 30 minutes in high heat.
are great with kids.
are sturdy, not fragile, like many toy breeds.
do not require a lot of exercise but need daily moderate activity.
are low-maintenance with little grooming required.
are natural clowns and love to show-off.
snore, wheeze, snort, and sneeze.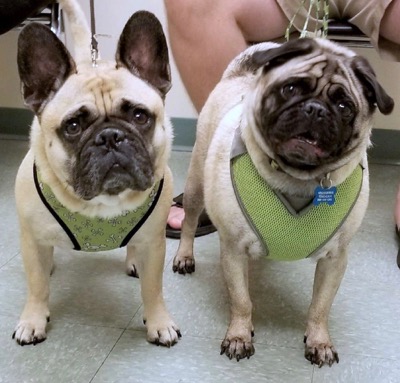 Bingo & Bunco (2017)
Are You Prepared to Care?
Annual visits to the vet for vaccinations, boosters, and routine check-ups are necessary and can be costly ($75-100 for a well dog), not to mention sick visits.

Other responsibilities include keeping dog licenses current and obeying laws relating to the control and ownership of a dog; keeping an identification tag on the dog; keeping the dog indoors, not tied outside for extended periods of time (pugs cannot tolerated extreme temperatures); and providing fresh food and water daily.

You should trim toe nails, clean ears, bathe your Pug, and give heart worm and flea preventative on a monthly basis.

Once a week, you should brush your Pug's coat and teeth, clean face wrinkles, and check for eye problems.

Pugs thrive on human companionship. Remember, your Pug's world revolves around you. Besides a daily healthy diet and continuous fresh water, your Pug needs plenty of love and attention.
Are You Willing to Share?
Sharing is what keeps our rescue a success. The officers and volunteers of Ohio Pug Rescue have put many hours and much effort into placing your adoptive pug into a safe and happy home. We only ask that you share your new life with us occasionally through pictures, letters, or phone calls, and by attending our annual Rescue Reunions.
Can You Help?
Any Pug-lover is welcome to apply for Ohio Pug Rescue membership. All proceeds from membership and adoption fees are applied to the ever-increasing vet bills and foster care costs for our rescue Pugs. As a member of Ohio Pug Rescue, you will also receive our quarterly newsletter and invitations to all Ohio Pug Rescue events.

If you are interested in joining Ohio Pug Rescue, please go to the Volunteer Membership page. Print the form, fill it out, and mail it to the address listed.
If you have questions regarding any of this information, please contact us.