Relinquishment & Surrendering
---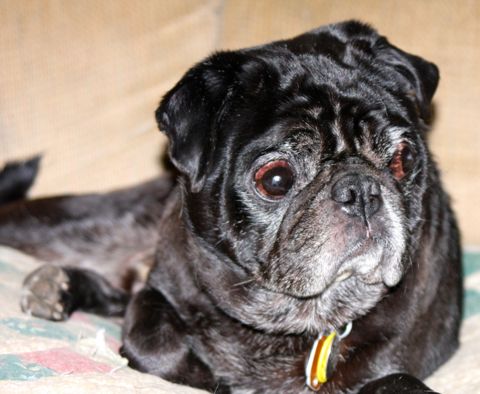 Palazzo (2012)
We understand there are many reasons why people cannot always keep their pets and appreciate that they look to rescue for help.
Ohio Pug Rescue accepts all purebred pugs into rescue.
You will be required to complete and sign a Surrender Form, stating all known information about the pug, including medical records (if available), habits, etc. This form will also serve as your legal agreement to permanently relinquish ownership of the pug.
All pugs that come into Ohio Pug Rescue are vet checked, spayed or neutered, vaccinated, microchipped for identification, and treated for any medical conditions before the adoption process begins.
Information that can be provided at the time of surrender is extremely important in the adoption process in order to help make a good match for the pug's forever home.
Ohio Pug Rescue also takes in stray pugs and makes every attempt to find their owner. If you have found a stray pug and want to surrender it to OPR, you will be asked to complete a Surrender Form, stating details about the pug you found.
Surrendered pugs are cared for in foster care in the private homes of OPR volunteers. All pugs stay in foster care until a suitable home is found. No pug is euthanized because it does not find a home. If a pug cannot find a home for any reason, the pug will live in foster care.
If you have a pug that you wish to relinquish to Ohio Pug Rescue please submit the following form:
If you have any questions regarding this process, please contact:
Terri Wolf, Rescue Coordinator
(614) 262-2845
Phone messages before 5 P.M.
will not be returned until after 6 P.M.
rescue_coordinator@ohiopugrescue.com