OPR Annual Statistics
---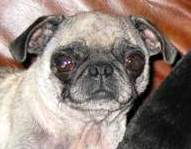 Maia (2005)
The Ohio Pug Rescue has rescued hundreds of Pugs over the years and you can help.
Here is a chart showing how much we have grown since our humble beginnings.
We couldn't have helped so many pugs without the donations, time, energy, and love of our volunteers, sponsors, and donors.
Thank you very much!
Click here for more information on how you can help.
| | | |
| --- | --- | --- |
| Year | Total Surrendered | Family Album |
| 1997 | 5 | 13 |
| 1998 | 17 | 0 |
| 1999 | 30 | 10 |
| 2000 | 71 | 19 |
| 2001 | 86 | 55 |
| 2002 | 89 | 54 |
| 2003 | 102 | 82 |
| 2004 | 150 | 116 |
| 2005 | 135 | 106 |
| 2006 | 142 | 120 |
| 2007 | 155 | 94 |
| 2008 | 156 | 150 |
| 2009 | 155 | 103 |
| 2010 | 128 | 118 |
| 2011 | 118 | 99 |
| 2012 | 95 | 92 |
| 2013 | 87 | 79 |
| 2014 | 89 | 69 |
| 2015 | TBA | 59 |
| 2016 | | 57 |
| 2017 | | 50 |
| 2018 | | 12 |
| Total | 1810 | 1557 |