Puppy Mill Report
---
Return to Menu
Pugs a Plenty...
By Renee Jeffries, Chief Dog Warden/Humane Officer for Butler County, Ohio
There is a mobile home park just outside the campus of Miami University in the City of Oxford, Ohio. It is a large, low income community. Many of the older, longtime residents keep their trailers and small yards neat and tidy. Some residents are lucky enough to have fenced yards or fenced deck areas where their dogs can romp and play. Anita Baker has lived in this mobile home community for at least 7 plus years.
Many times our office, Butler County Dog Warden, was called to Ms. Baker's residence on complaints about the extreme number of dogs that she had in her trailer. Ms. Baker kept the 20 plus pug dogs inside the trailer in individual cages and ex-pens. The dogs were always kept in the minimum of care as required by law. The dogs always had food, water and shelter. There was never any type of major violation that we were able to prosecute her on. If Ms. Baker did not have current dog license she would be cited for that violation. But over the years she caught on to the fact that we would be out to check her for registration so she regularly purchased individual license. We have always viewed her as a typical "backyard" type breeder selling the dogs for a profit.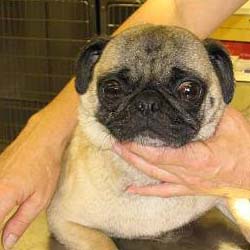 In the past year the managers of the mobile home park have been working with the Oxford City Police Department to get Ms. Baker to remove the dogs. They finally were able to get her to remove the dogs from the park. Unfortunately, she was not willing to give up her business so she just moved the dogs to a barn on a vacant property of a friend. We found out the location because in April of 2004 we began receiving complaints of 4 thin horses on that property along with the dogs. We continued to monitor the animals from April to July. The majority of the time the dogs were clean, watered and fed.
The horses appeared to be fed only sporadically when the mood and money agreed with Ms. Baker. The conditions were not enough to prosecute or remove the animals, although in May we did file cruelty charges for lack of food. That case is still pending. But each time we went out to check the animals we were disturbed. We all knew that these animals needed more than the law requires. The dogs seemed starved for attention. They were being housed and stored not loved and cared for in a home- type environment like they deserved.
On July 7th the new owners took possession of the property and we were able to remove the dogs and take them to the shelter. Ms. Baker was contacted and she agreed to sign the dogs over to the Animal Friends Humane Society in lieu of additional charges. We lost 4 of the 30 dogs due to Parvo and the horses have been sold off by Ms. Baker. And of course the wonderful folks at Pug Rescue came to our rescue and took 22 pugs for placement. Since the story has hit the news we have received many calls from people who over the years had bought puppies from Ms. Baker. Many told stories of sick dogs and of never receiving papers that were promised to them.
All the dogs are now in homes of either new owners or foster families. They are where all pugs should be...in homes...with families...being loved and cared for. Because, let's face it, pugs are not just dogs, they are dogs with hearts and souls. Just ask anyone who is lucky enough to have a pug in their life.